The Trust warmly congratulates Keelan Heesterman (Youth MP representing Anna Lorck, MP for Tukituki) winner of the 2022 Youth Parliament Competition. Keelan chose to write on the topic "Do you think that New Zealand's parliament has too little, too much, or just the right amount of power? Explain your answer."
In summary, I believe that New Zealand's Parliament (and the executive, even more so) has too much power so long as the legislative process is undermined by overuse of parliamentary urgency, and Select Committees are presided over by government MPs. While the judiciary plays a role in law-making through the development of common law due the Doctrine of Precedent, it is important that our democratically elected officials have the final say on legislation. A cynical mind may even argue that New Zealand would not have gone into lockdown or responded so swiftly to COVID-19 if the courts had the power to strike down legislation or if urgency wasn't available.

- Keelan Heesterman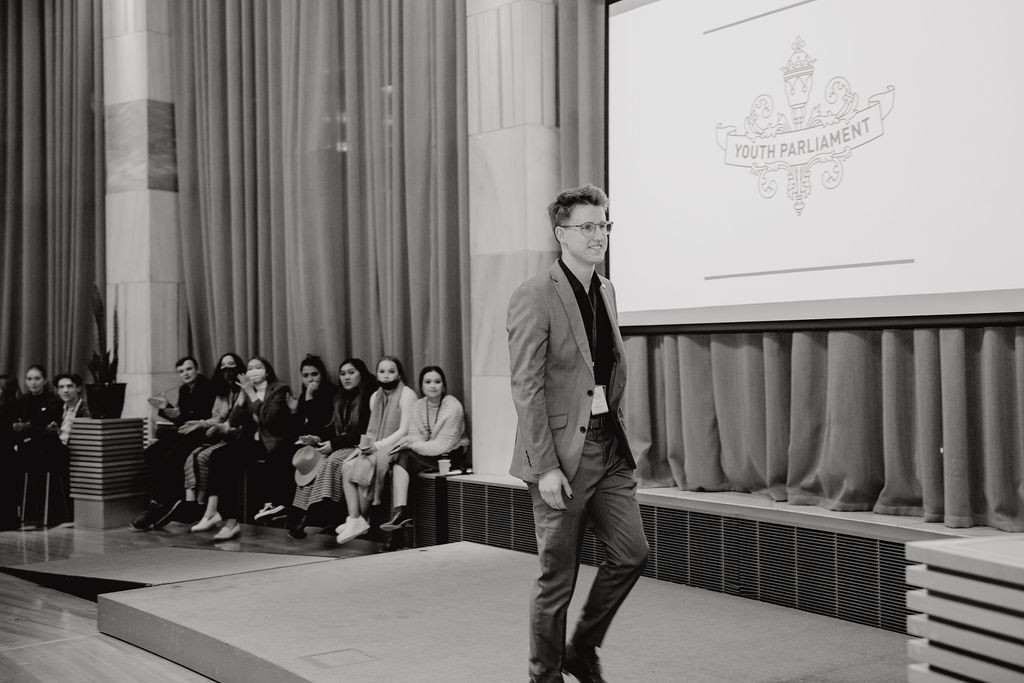 The Trust also congratulates the runners-up:
Gryffin Powell (Member of the Youth Press Gallery – 1ST Runner-up
Will Irvine (Youth MP representing Rachel Boyack, MP for Nelson) – 2nd Runner-up
Matteo Zhang (Member of the Youth Press Gallery  - Joint 3rd Runner-up
Meghana Gaddam (Youth MP representing Tim van de Molen, MP for Waikato) – Joint 3rd Runner-up
Danica Loulie Wijtenburg (Youth Clerk) – Highly Commended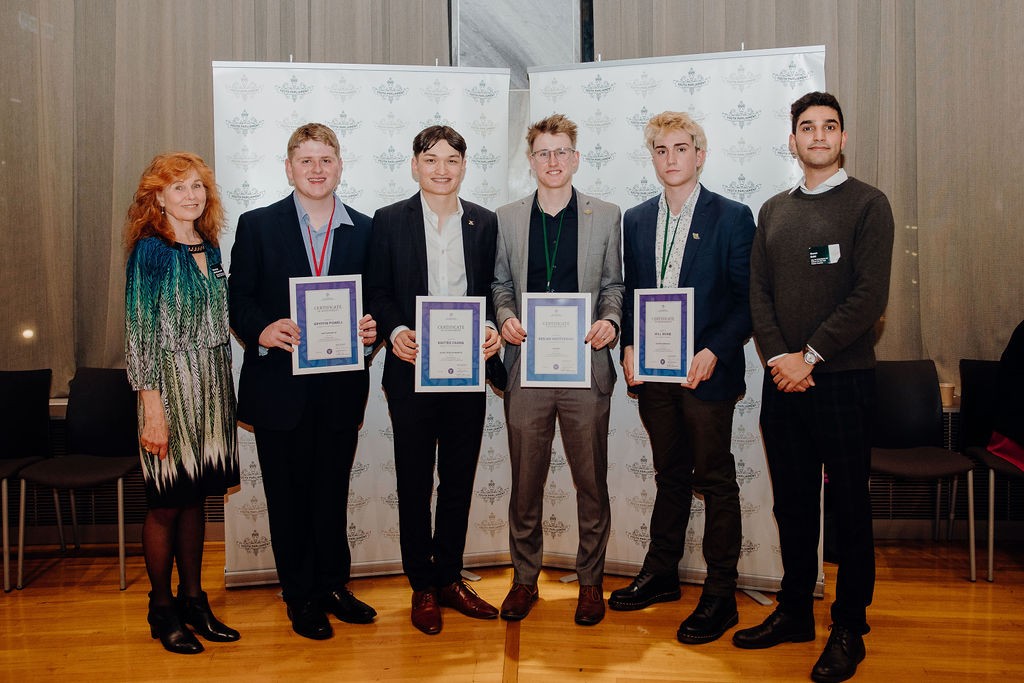 The winner for this year's competition received a monetary prize of $2,500 for future studies. The 1st and 2nd runners-up each received monetary prizes of $2,000. The joint 3rd runners-up each receive a monetary prize of $1,000.
Youth Parliament 2022 was the tenth New Zealand Youth Parliament. The Trust has been proudly associated with the triennial Youth Parliament since its inception in 1997 through the sponsoring of a competition and the provision of substantial monetary prizes.
For the 2022 competition participants had a choice of two topics they could write on or speak about. They were:
"Do you think that New Zealand's Parliament has too little, too much or just the right amount of power? Explain your answer"
"Identify a key issue currently facing our country and tell us how Parliament and the business community could partner together to devise a roadmap to achieve change on this issue"
The judging panel comprised Nancy McConnell, Deputy Board Chair and Strategic Adviser with Hawkins Ltd, part of Downer New Zealand, Chris Litchfield, Chief Executive Officer, Coco Cola Europartners Ltd and Karan Kalsi, former Youth MP and winner of the 2016 competition.
This year's competition standard was so high and the final marks so close, that the judging panel decided to award the additional prize of 3rd runner-up which was a shared award.
Other summaries:
Perhaps Aotearoa's parliament reflects our identity as a nation, it punches above our weight – this is seen in our fast moving yet accessible democracy, and our perception around the world. Making Parliament less powerful means that ultimately some of the power must be transferred to another group – this is unfair when our parliament is as diverse, inclusive and accessible as it currently is. As long as we fulfil our civic duty by continuing to vote, scrutinising our politicians and submitting to select committees, we the people, can keep Parliament's power in check – and help it create greater change for any individual, group or business.

- Gryffin Powell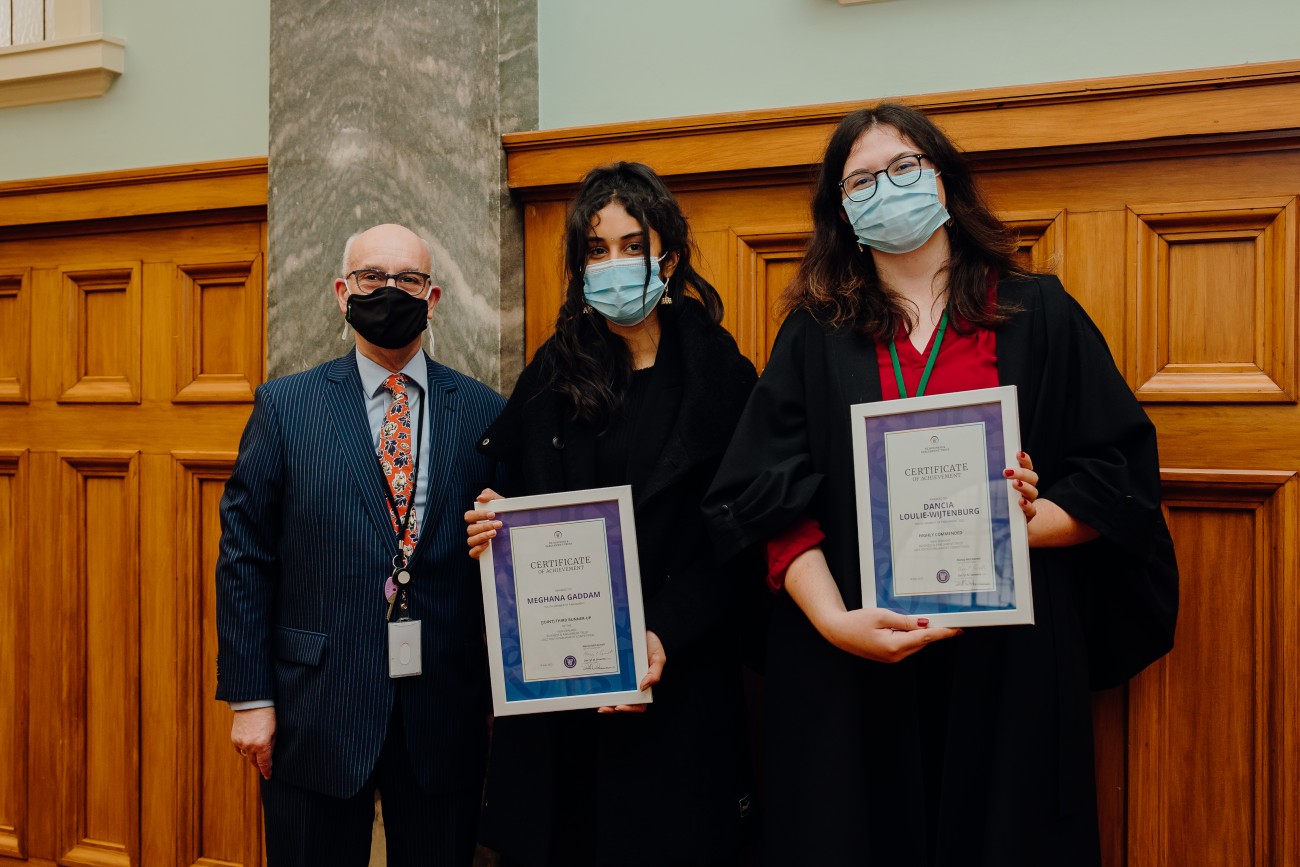 We need to reflect on whether a house becomes a home, without long term stability, or a community to support you. While everyday New Zealanders love the idea of owning their own freehold property to grow old in, letting the free market alone dictate this has proven to be ineffective, and borderline cruel. Housing co-operatives provide a plethora of benefits that go far and above delivering cost-effective solutions to the housing crisis, they also deliver a socially and environmentally sustainable one. Without state backed loans, a reform of the financial sector and overt public backing from the professional business community, housing co-operatives will continue to be inaccessible. New Zealand will continue to be an unaffordable place to live. For those most affected by our housing crisis, enabling housing co-operatives to grow will give pensioners a supportive community, our tangata whenua a way to support their communities, and our young people and families secure shelter, without sacrificing everything else they need to live a fulfilling life.

- Meghana Gaddam